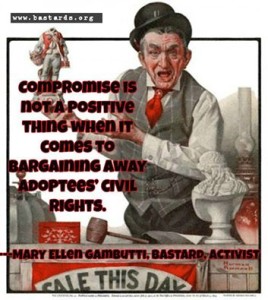 My silences had not protected me. Your silence will not protect you, Audre Lourde
Missouri Adoptee Rights Movement (MARM), continues to stonewall its members, friends, and adoptee rights activists in general on the status of HB  1599,  you, know, the "beautiful thing" bill that if passed would strip Missouri  adoptees, in the name of "adoptee rights," of even more rights.  As I asked in the lead-up to this debacle, what would Orwell do?
After Bastard Nation partner Missouri Open (MO) published its preliminary report on the Wednesday April 13, 2016 Seniors, Families and Children committee decision to gut more of the already gutted-but-once-clean bill with adoption agency sponsored amendments, MARM remained silent. Although MO posted its statement on the amendments on April 14, 2015 at 12:08 AM  MARM did not post theirs until nearly 12 hours later (11:24 AM), and then with a big back pat and a horn toot:
From MARM:
Per Representative Phillips "My HB 1599, aka; the Mo Adoptee Rights Act passed unanimously out of the Senate Committee on Seniors, Families and Children today by a vote of 7-0! Next step is making it onto the Senate floor for debate / vote. We are getting closer and closer! Thank you Sen David Sater and members of the Committee!"
The statement was met with applause by people clearly unaware of the new amendments or who didn't care.
When a few inquiring minds  asked about the amendments or remarked about the deform,  MARMers responded  by blaming critics of deform–aka Bastard Nation and Missouri Open–for deform:
… Continue Reading