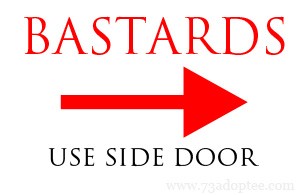 Texas HB 984 is probably going to pass within the next 24 hours. Some people will be celebrating "open records" while some of us will heave a big sigh and then put our heads back down to keep pushing through. I think that, as a community, those of us touched by adoption somehow feel like we are such a minority that we cannot afford to disagree about anything. I probably felt like that myself at one point. However, I think that it is time for us to possibly deal openly with the fact that we don't always want the same things. And we need to deal with the fact that we are all in different spaces as it relates to what we are willing to do to get what we want and what we are not willing to do.
So using HB 984 as a starting place, I will go ahead and tell you where I stand. Feel free to say your own piece, even if it is directly opposed to where I stand. I can take it.
Getting a non-certified copy of my Original Birth Certificate will not give me anything I don't have already. There is some law here in Texas that allows me to get the non-certified OBC already. I think I just had to know the names that were on it or something. So that law is no good for searchers, but it gave me a piece of paper that I didn't already have. And at that point, technically, I did not have to do anything any other Texan does not. If I want to get my birth certificate as Carolyn Evaine Shaw (adopted name), I can fill out the application with only my info and get what I want. It helps the people at Vital Stats if I give them the mother/father info, but it is not required. If I want to get my birth certificate as Patricia Ann Fryer (birth name), I fill out the application with that info and get what I want.
When I got my non-certified OBC and finally held it in my hands, I realized that I felt very little joy or accomplishment. Why? Because I was asked to wait next to a separate door for a lady to come hand me the OBC. I cannot remember what exactly she said, but it was along the lines of asking me if I knew what she was giving me. Like she was handing me a grenade and asking me if I knew that she had already pulled the pin. When I said "yes" and did not break down crying or pull out a gun, she seemed surprised. I wondered if they had to draw straws in the back to decide who would handle such a delicate matter. Everyone else who was requesting birth certificates that day just stood at the counter where regular business was being conducted.