ACT
Ideas for Getting involved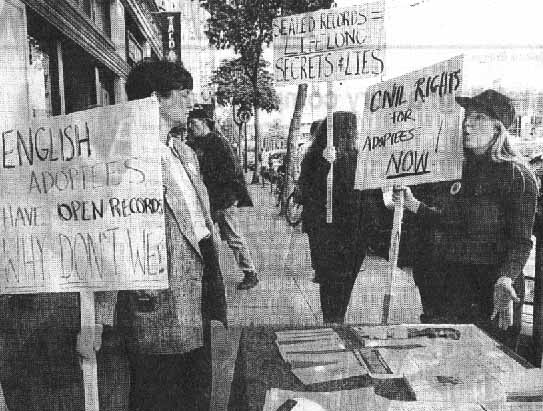 You're a Tax-paying citizen – NOT a Second-class citizen!
Educate yourself, your community, and your legislators.
| | |
| --- | --- |
| The basics of Adoptee Rights Activism. Read it to know the issues and the arguments. | A primer on getting the word out. Read it, do it, and make a difference. |
Membership Drive: Increase the visibility of Bastard Nation's message in your community. Learn how to set up an outreach table at a community event, distribute literature and membership flyers and meet new prospective members.
November is Adoption Awareness Month! 
Be on the lookout for stories and news about adoption and make sure you respond! Write letters; make phone calls; educate the public on adult adoptee rights!
— Past Activism —
(some actions were lost in transfer to WordPress)
Bastards on the Bayou protest in front of the Louisiania Bureau of Vital Records and Statistics.  New Orleans.  May 17, 2002
Adoptee Rights Day: June 2nd.Celebrates the anniversary of the final passage of Oregon's Adoptee Rights bill, Measure 58. Public awareness events at Vital Records offices and local hubs. Focus is on equal rights and dignity for adopted citizens. Multiple cities nationwide.  1998 – 2001
Bastards on the Boardwalk Adoptee Dignity March in Atlantic City, NJ.  October 9, 1999
Bastards in the Belly of the Beast protest in front of NCFA Headquarters in Washington, D.C.  May 14, 1999
Bastard Bookstore display. Community outreach in San Francisco, CA.  1998
T.I.E.S. Benefit with Christina Crawford– Booksigning and benefit screening of "Mommie Dearest" for the Terminal Illness Emergency Search Program in Seattle, WA.  April 3, 1998
Oregon Open '98 Ballot Initiative Rally for Measure 58 in Portland, OR.   March 21, 1998
Bastards at the Bell – Let Freedom Ring!  "Our Records, Our Rights" Rally in Philadelphia, PA.  November 8, 1997
American Bar Association protest during their annual meeting to make lawyers aware of the anti-adoptee provisions in the 1994 Uniform Adoption Act.  San Francisco, CA.  August 2, 1997
Sealed Records Protest as part of the Birth of a Bastard Nation conference in Chicago, IL.  July 18, 1997
Adoptee Dignity Recognized in American Greetings Case! Internet Activism gets anti-adoptee card withdrawn. Read Marley Greiner's piece on this success in the Columbus Dispatch. February – March, 1997
Secrets and Lies Rallies – series of open records public awareness events in conjunction with the award-winning Oscar-nominated film, "Secrets & Lies."  Multiiple cities.  1996 – 1997