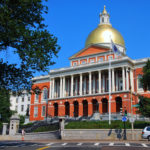 On May 16, 2017 the Massachusetts Joint Committee on Pubic Health held a hearing on H1163/S1195.  These (identical) bills if passed would empty the current Black Hole in Massachusetts access law and create unrestricted  OBC access for all Massachusetts adoptees. Currently only those adopted in Massachusetts on or before July 17, 1974 and on after January 1, 2018 have unrestricted access.
The current bills passed favorably out of committee on  May 30. H1163 (accompanied by S1195) has been forwarded to the House Committee on Steering, Policy, and Scheduling. Last session similar bills, with large bi-partisian support,  landed in this committee where they sat without a vote until the session ended and they died. Go to our Legislative page for details of current and past legislative activities in Massachusetts and other states).
H1163/S1195 are not Bastard Nation bills and OBC for MA is not a Bastard Nation partner. BN, however, supports these bills as written. Our submitted testimony is here.
Below is May 31, 2017  statement from OBC for MA on current status and what you can do"
H.1163 and S.1195 were heard by the Joint Committee on Public Health on May 16. Thanks to everyone who attended the hearing, testified, and/or submitted written testimony.  The Committee responded to our powerful voices and reported out favorably on May 30.  H.1163 (accompanied by S.1195) has been referred the the House Committee on Steering, Policy and Scheduling!