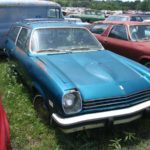 This is not 1977!
Our friend and Bastard in Arms Greg Luce has created a video Used Bill of Goods– on New York A3056/S4845b. Earlier he explicated  on "adoptee rights" in New York  in The Nutso World of New York Adoptee Rights. If you read this and still support this piece-a-crap bill, may you be vetoed and sent to a judge.
Read about these bills in the Bastard Nation Action Alert  and on the BN Legislative page.
For more Lucferian thoughts on our rights or lack thereof, please go to Greg's Adoptee Rights Law Center and his blog.
The New York assembly is pushing a used bill of goods that it calls "adoptee rights." Contact your elected New York officials to say No to 5036B.

Posted by Adoptee Rights Law on Thursday, June 15, 2017

Print Article